Real estate investment report:
Get your FREE copy of our ApartmentVestors Special Real Estate Investment Report
& Special Bonus Newsletter:
Identifying High Performance Real Estate Investments – The 5 Step Formula for Investment Success.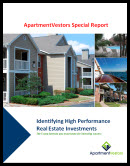 In this real estate investment report you will learn how sophisticated and successful millionaire real estate investors base their investment decisions.  You will learn how to determine the real estate investment's value before making offers.  You will also learn how to determine risk and how to evaluate different real estate investment opportunities so you get the highest return on your investment!
Without using the formulas in this real estate investment report, most investors are either:
1) making money by accident (which only works while the market is going up) or
2) losing money on their real estate investments. 
Using the valuable information and select formulas in this real estate investment report, you will be able to make better investment decisions and beat your competition.  These formulas have been proven by very successful investors to build massive portfolios, high net worth, and huge cash flow! 
This report can be used across many types of real estate including retail, office, single family homes, multifamily, industrial, and more… The investment principals work!

In this special real estate investment report you will learn:
How to make better real estate investment decisions
How to determine your return on investment

How to determine investment real estate value

How to evaluate investment properties like the professionals

What the Net Operating Income is and how to calculate it

The information you must have to evaluate and investment property or you are guaranteed to lose money

How to determine a property's sale price, Net Operating Income (NOI), and Capitalization Rate (CAP Rate)

How CAP Rates are used and how you can compare different investment options before making offers

2 Quick ways to determine if a property will make money without spending hours evaluating it

How to determine investment risk

How to determine if you can get the investment financed by banks and lending institutions

How to determine Break-even Occupancy and what it means for your investment

3 Ways to determine rate of return and calculate how much you will make

How to calculate return on investment, cash-on-cash return, and internal rate of return and what they mean to your investments

How to determine what you will pay for an investment to get your desired return
Much, much, more…
Get your copy of our FREE Real Estate Investment Report today by filling out the short form below and hitting Submit.  It's that easy!
As a special bonus you will also get our ApartmentVestors real estate investment newsletter and access to exclusive "off-market" opportunities.
 GET YOUR FREE REAL ESTATE INVESTMENT REPORT NOW!
Investor Testimonials
We are so glad you purchased this property.  We were skeptical, but you have done everything you said you would and more.  It's amazing the transformation you've made.  We now use you as an example of how to turn a property around and improve the community.  We hope you purchase more properties in our city. – Officer Kirk, City of Gladstone

Thank you for letting me be a part of this investment. It's been awesome! I am so appreciative for all you have done for us. – Leonard

I can't believe how much you've changed our property for the better.  It looks awesome!  I am so proud to be an owner and investor.  The checks each quarter are nice too! – Melissa

I was very hesitant to invest with ApartmentVestors after workign with other real estate investment companies who were only out for themselves.  ApartmentVestors has done exactly what they said they would and they really care about me, the investor.  It's the best investment I have ever made.  I only wish I would have invested more. – Mahavir

Investing with you and my IRA has been effortless.  You have worked so hard for all of us and it shows!  The investment and our experience have completely exceeded my expectations and I look forward to investing in more projects with you. – Elise